Borders closed – and now what?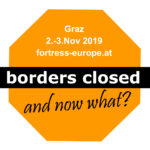 Interactive conference
Nov 2nd and 3rd, Graz, Forum Stadtpark
The European governments have been pursuing a consistent policy of closed borders for several years, shifting the task of border security to the outside of the EU borders without asking about the consequences. This leads to life-threatening situations for people on the run, who are trapped between the borders between Bosnia and Croatia, Libya and Italy, Morocco and Spain or France and UK – but also has consequences for people living in neighbouring countries and within the EU. While the governments' strategy is to let as few refugees as possible into the EU, NGOs try to alleviate the worst effects. People from civil society stand up for the rights of refugees and support them either on the way to the borders or to stay here – be it in the Mediterranean, along the Balkan route or within EU countries. They are often involved to the point of exhaustion and arbitrarily criminalised. In the dynamics of power relations between governments, NGOs, volunteers and people on the run, supporters and refugees find themselves in a kind of hamster wheel from which there seems to be hardly any way out.
The event wants to bring together all those who support people seeking protection, be it at the borders or within the EU, as well as others confronted with the topic, e.g. those working as scientists or in social institutions. We will work together on questions like:
What role do we play in this "power game"?
How can we change our postion within these power dynamics so that we and the refugees feel better?
How can we influence the rules of the game?
For more information click here
For registration click here
Participants:
Update on Oct 5th:
Many engaged and interesting people have already registered, among them journalists, activists and volunteers, people from rescue ships in the Mediterranean Sea and along the Balkan route as well as from the Solidarity City Movement. Participants will come from Bosnia, Croatia, Slovenia, Germany, Austria and Italy and hopefully Greece.
We are happy to welcome Stefan Schmidt, former Captain of the German rescue vessel Cap Anamur, now Voluntary Commissioner for Refugees for the Bundesland Schleswig-Holstein, Elias Bierdel, also member oft the Cap Anamur team and head of the organisation, then working for Austrian Center for Peace and Conflict Resolution and now for Borderline Europe, the political scientist, human rights activist and writer Ishraga Mustafa Hamid, Melita Sunjic, UNHCR and political adviser, Lisa Bolyos and Heike Schiebeck from Forum Civique, Petra Leschanz from Spielfeld Bordercrossing and many more …
There are only few free places left, so if you think about joining the conference register now!
---
This event is supported by:



---
Partner: